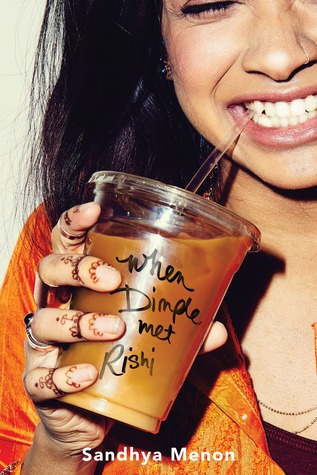 Title: When Dimple Met Rishi
Release Date: May 30, 2017
Publisher: Simon Pulse
Pages: 380
Received: Bought
Star Rating: ★ ★ ★ ★ ★
Dimple Shah has it all figured out. With graduation behind her, she's more than ready for a break from her family, from Mamma's inexplicable obsession with her finding the "Ideal Indian Husband." Ugh. Dimple knows they must respect her principles on some level, though. If they truly believed she needed a husband right now, they wouldn't have paid for her to attend a summer program for aspiring web developers…right? Rishi Patel is a hopeless romantic. So when his parents tell him that his future wife will be attending the same summer program as him—wherein he'll have to woo her—he's totally on board. Because as silly as it sounds to most people in his life, Rishi wants to be arranged, believes in the power of tradition, stability, and being a part of something much bigger than himself. The Shahs and Patels didn't mean to start turning the wheels on this "suggested arrangement" so early in their children's lives, but when they noticed them both gravitate toward the same summer program, they figured, Why not? Dimple and Rishi may think they have each other figured out. But when opposites clash, love works hard to prove itself in the most unexpected ways.[goodreads]

My Thoughts
One of my favorites this summer.
When Dimple Met Rishi is a novel that captivates your heart and influences more people to understand that culture is important and should be respected.
But this love story, was so unique and of its own kind. I know I may overuse "unique", but I mean it in the most genuine way. The storytelling was precise from bringing heartwarming teasing, to seeing the raw and unmasked truths.
Also, Dimple being a woman of color and in tech is such a brilliant and beautiful thing because of the tech industry being so concentrated in men.
This token chimed with my own personal pursuit.
I've realized "You can't be, what you can't see". It's rang in my head and this novel takes me home.
The setting in a "hackathon" esque area was very interesting and fun. This novel doesn't only bring a love story, but a story on the privileges people have over others AND their rhetoric around it. Rishi, a more traditionalist, is planning to be in an arranged marriage with Dimple, who is more of a free spirit. These two will eventually hit it off and ideals change, while feelings accumulate.
There's not enough I can say about this one. It left me contemplating my own culture and the traditions I want to hold and ones I can't let anyone decide for me.